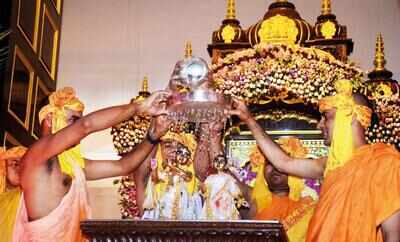 Krishna bhakts gathered at the Iskcon temple to celebrate Jamashtami
Kanpur: Janmashtami, the birth of Lord Krishna, was celebrated with religious fervour and joy in the city.
As the main temples of the city were closed for the public, a good crowd of Krishna bhakts gathered at the Iskcon temple where the birth of Lord Krishna was celebrated at midnight. The evening, which began with Krishna bhajans, songs and dance by bhakts, reached its peak around midnight.
The devotees witnessed bathing and decoration of the deity and thereafter greeted each other and enjoyed the `prasad' distribution. Another famous temple of the city, JK Temple though too was closed for the public, displayed a light and laser show with fountains which attracted the people.
The other city temples too were decorated and illuminated with colourful lights to celebrate the birth of Lord Krishna.
The devotees started buying necessary items from Monday itself to decorate their home temples and to offer special prayers. Many devotees observed fast and broke it after taking 'prasad' panchamrit and panjiri' at midnight. They decorated their home temples with flowers and green leaves and coloured wallpapers and offered prayers before the deity of Lord Krishna.
Most of the devotees preferred the small deities, displaying Krishna eating butter from an earthen pot. The vendors selling idols of Lord Krishna, did a brisk business.
This year the people missed the tableau which used to be displayed in various city temples on this occasion.
Janmashtami function was also celebrated at the Reserve Police Lines which, besides other police officials, was also attended by police commissioner Asim Kumar Arun.
Festivities were held at a temple at ADG zone office premises. Bhanu Bhaskar and other officials attended the function and stayed there till the birth of Lord Krishna. Similarly, the festival was also celebrated at Kanpur jail.
FacebookTwitterLinkedinEMail